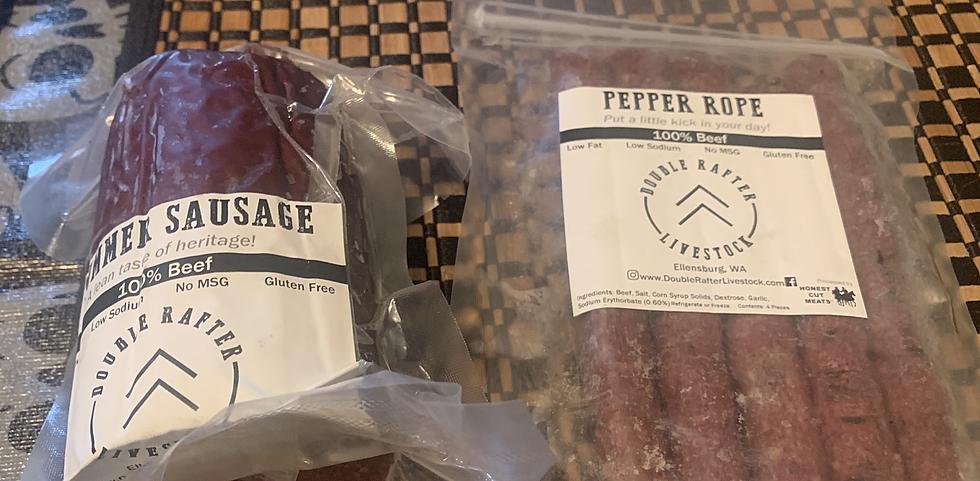 The Delicious Meat and Steaks that you can Buy from an Ellensburg Farm
Ryder
This weekend during the Naches Sportsman days I found a company based out of Ellensburg that specializes in farm-to-table foods. Not that I dislike the meat you can get at the grocery store it's still some grade-A stuff. But for that fresh taste and juicy flavor farm-to-table is the way to go.
This place not only serves up steaks but beef, ribs, brisket, you name it. The animals are locally raised and the family are absolute pros when it comes to butchering and making some of the pre-cooked food.
Double Rafter Livestock in Ellensburg produces some of the most delicious meat I've tasted, I decided to pick up some summer sausage because it's been a favorite of mine since I was little. Sadly I don't find many places that can do it justice other than Hillshire farms. Lucky for me Double Rafter Livestock makes it even better, savory, salty in every bite it's like going back to my childhood, it goes great with some honey mustard and a beer...I'm just saying.
They were even kind enough to show me their other products, let me tell you every night game for the seahawks my girlfriend and I have a tradition of doing some barbecue and I'll be ordering the T-bone steaks they showed me before that game happens, along with their porterhouse and some of their brisket, just to be set for the season.
I'm also a die-hard fan of pepperoni sticks, my go-to since I was little was always Oberto but since Double Rafter Livestock makes in-house pepperoni sticks I decided to go out on a limb and try some. As much as I love the Oberto beef sticks they just can't hold a candle to Double Rafters.
You can check out their menu and order by using the link here. Double Rafters Livestock
LOOK: 34 spooky dessert recipes for this Halloween
LOOK: 15 Discontinued McDonald's Menu Items