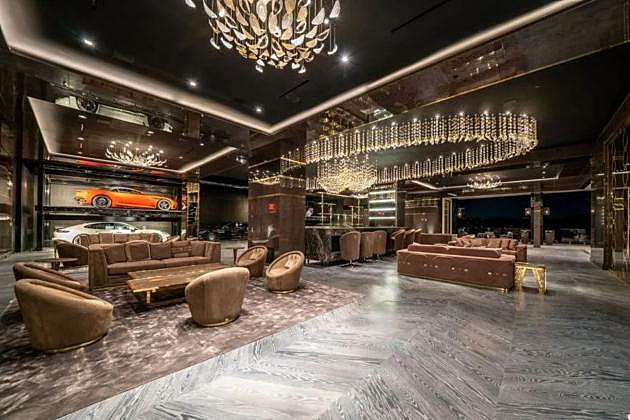 This $125M House for Sale in Bel Air Looks Like Batman's House
Courtesy Branden and Rayni Williams, The Beverly Hills Estates via Sotheby's International Realty Beverly Hills Brokerage
This home is for sale in Bel Air and the asking price is $125M. Even by Bel Air standards, this mansion is top of the line. I have never seen a mansion like this except when I was watching Batman movies! When I come across these multi-million dollar mansions for sale, my mind always goes to, "What kind of job do they have to afford such a luxury house like this?" and "Why can't I get THAT kind of job, too?!" This particular home is beyond unbelievable to me. Maybe this really IS Batman's house! Either his or Iron Man's! 😂
How many homes do you know of that have room for, not one, not two, but up to six fancy sports cars in the living room? If you think the living room with views of the luxury cars is wild, just wait until you see the decadent sub-zero temperature vodka tasting room, and the two luxury closets.
This Bel Air home is fairly new; it was built in 2021. It has a cigar lounge, Italian luxury brand furniture, a 30-person lounge area with firepit, rooftop deck, and fingerprint technology for extreme home security.
There are 12 bedrooms and 17 bathrooms here; that's enough bedrooms for all of Batman's DC Comics friends (sorry, no room for the Marvel Comic ones, ha). If guests get thirsty, there is enough space for 1,050 bottles of bub.
We don't know who currently lives in this Bel Air mansion but one thing I know, I wanna be their new friend! 😂
This home is listed courtesy of Branden and Rayni Williams, The Beverly Hills Estates via Sotheby's International Realty Beverly Hills Brokerage.
Check out the amazing gallery of Bruce Wayne aka Batman's Lair this Bel Air mansion below!
This $125M Bel Air Home Looks Like a House Batman Would Live in
Whether Batman is real or not, I hope whoever buys this $125 Bel Air mansion next will invite me over for a first-hand tour. A gal can dream! 💗
Got a news tip? Email us here.
POPULAR STORIES TRENDING NOW:
Every Single Room in This $5M House In Washington State Is Epically WEIRD
It's so weird, it's cool, man. See for yourself.
A Bunch of Amazing Celebrities You Know & Love are From Washington
Washington's A-listers, Oscar winners, Grammy winners, and faces of big franchises in one comprehensive list.
These are celebrities that have been born in, moved to, or lived in Washington.
5 Fun Things To Do in The Coolest Small Town in WA: Friday Harbor