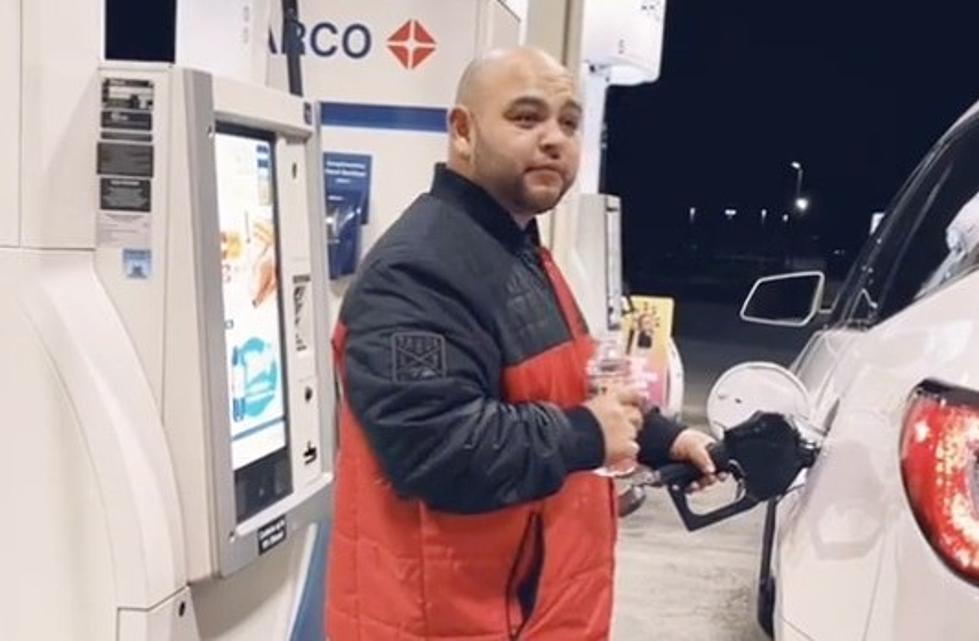 TikTok Comedian Roasts Yakima While Pumping Gas in Hilarious Viral Video
Chief_budda via TikTok
TikTok comedian, Chief_budda, pumps gas and roasts the city of Yakima at the same time.
"It be crazy sometimes #yakima #washington #gasstation #stayonyourtoes #comedy #fypシ #plugtalk" - Chief-budda via TikTok
HOW THE TIKTOK VIDEO STARTS
At the start of the now-viral TikTok video, the comedian is seen standing at an Arco AM/PM gas station, pumping gas into a white car whilst holding a water bottle. He is wearing a red and black jacket and acid-washed blue jeans with white sneakers. A male voiceover says "When you're pumping your gas in Yakima Washington" and there is a caption on the video with the same words.
The man appears to be mindly waiting for his gas to pump when all of a sudden, he hears a smatter of gunshots somewhere in the nearby distance (you can hear the sound effects of about a dozen or so gunshots). The man looks up in surprise at the gunshots and looks around to see what is going on. You then hear a male voice in the background groaning in pain as if he had been hit by one of the bullets.
HOW THE TIKTOK VIDEO ENDS
The man at the gas station does not appear frightened, in fact, he seems to be relatively calm, almost as if he is so used to hearing gunshots and people yelling. He then shakes his head is dismay and goes back to checking on the gas pump.
This reaction would explain the video's caption, "It be crazy sometimes."
MY REACTION TO THE VIRAL TIKTOK VIDEO TOOK ME BY SURPRISE
I am not really sure why this video had me laughing almost to the point of tears, but I will admit that in my neighborhood I often hear random gunshots going off at all times of the day and night. I shake my head, too, but instead of going back to minding my own business, I will immediately grab my cell phone and listen to the police scanner app to see if I can find out what just happened and what street it happened on near my house.
Chief-budda's TikTok video has been liked over 28,000 times.
NOT EVERYONE AGREES WITH THIS ROAST ON THE CITY OF YAKIMA
Not everyone that has seen this viral video agrees with Chief_budda that this "scenario" truly represents what the city of Yakima has to offer.
Daniel Fernandez writes, "I visited fam there, nothing going on there, just some good apples. 😂"
Other comments on the video include: "I just moved from California to Yakima and I've never heard anything like this before,", and "I came from East LA to Washington state and I can confirm WA is safe."
SOME PEOPLE DID AGREE WITH THIS ROAST ON THE CITY OF YAKIMA
A few commenters agreed that Yakima can be a rough city at times, like this comment from Sandra Conde, "Yaass!..💀💀 we don't even flinch anymore.. lmao," to which Chief_budda responded, "Nope, jus (sic) mind ya own (business) and everything will be alright."
View the viral TikTok video below:
Take a Pic of Yourself in Yakima at One of these 74 Mural Selfie Walls
Did you know that the city of Yakima, Washington, has over seventy-four (74) murals that would make for a fantastic place to get your sightseeing selfie? You've no doubt taken quite a few selfies in front of popular landmarks and selfie wallls.
Keep your eyes out for one of our unique photo-op murals to add to your collection in your social media pics, and stop and take a memorable selfie of yourself in the heart of Yakima!