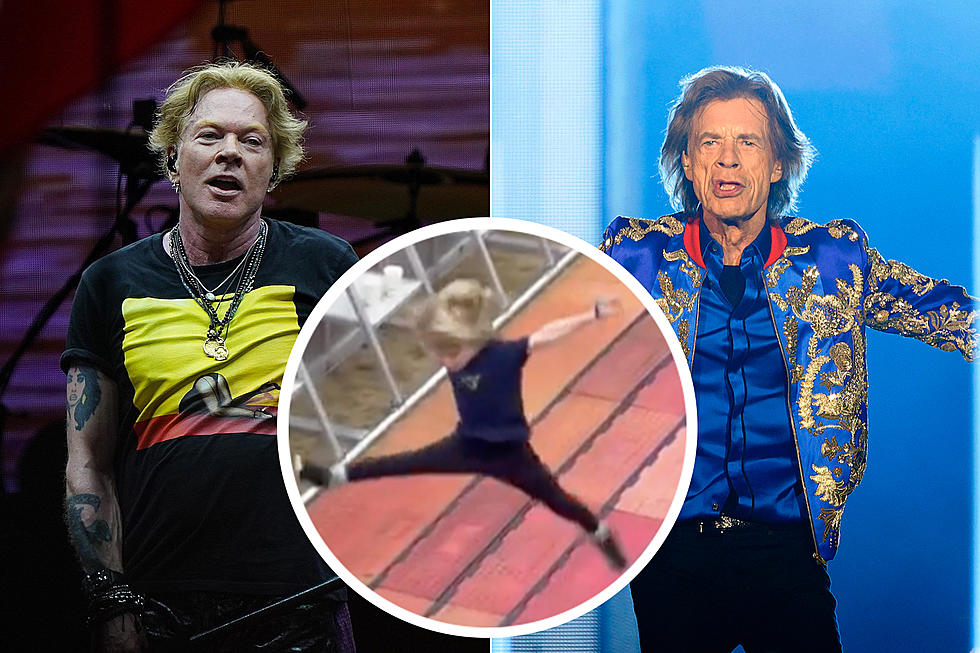 Mick Jagger's 6-Year-Old Son Dancing at Guns N' Roses Show Will Make Your Day
Yui Mok - PA Images via Getty Images / Ethan Miller, Getty Images / Reddit.com/r/gunsnroses - u/rothsixxrose
One of the best parts about rock 'n' roll is that it transcends generations. Mick Jagger's 6-year-old son is apparently a fan of Guns N' Roses, and a video of him dancing during the band's June 30 show at London's Hyde Park will make your day.
The video clip was posted on the Guns N' Roses Reddit thread, and according to one of the users, it was originally shared by Sasha Volkova, who's been a friend of Axl Rose for a few years. She was supposedly in the VIP section during the band's concert with Jagger's fiancé Melanie Hamrick, the mother of Jagger's son in the video, whose name is Deveraux "Dev" Octavian Basil Jagger. The youngster was born in December of 2016, and is the 79-year-old Rolling Stones' frontman's youngest of his eight children [via National Today].
During the clip, little Dev Jagger shows off some killer dance moves in the VIP section as Guns played the Use Your Illusion II clip "Pretty Tied Up." "Mick Jagger's youngest son is a superstar and got daddy's moves," the caption in the video reads.
"Mick Jagger is 80 and has a 6-year-old son who's inheriting his moves and dancing to 'Pretty Tied Up' at a GN'R show. That's the world of rock n roll," one user commented on the video.
"Truth. Kids take to [Guns N' Roses] pretty easily. I've heard so many people say they started loving the band when they were small children, or that their own children love gnr. They're surprisingly kid-friendly for a band with such mature subject matter," another person added.
READ MORE: Guns N' Roses' Axl Rose Takes a Tumble Onstage in London, Recovers Like a Champ
Guns N' Roses have a longstanding history with The Rolling Stones, who were a major influence on their sound and career, so it's nice to see that the connection will be carried on for generations to come. Volkova's personal Instagram is private, so check the clip out for yourself here.
GN'R's European tour continues through the middle of the month, and then their North American tour will kick off in early August. See all of the upcoming dates and who's opening for each show at this location.
Rock Star Kids Then and Now
Photos of famous children of musicians. What are they doing now?