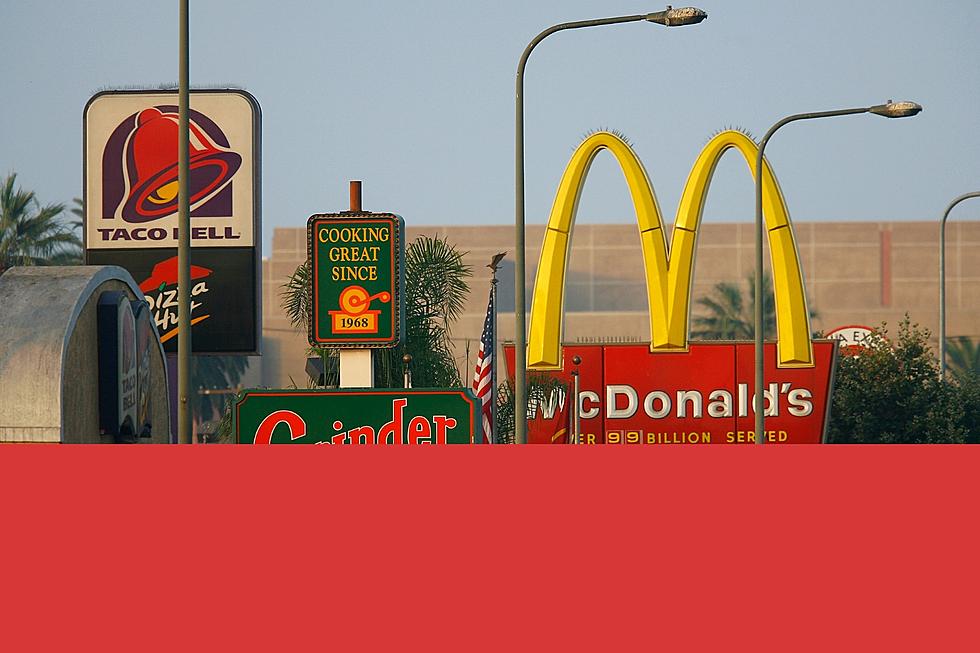 7 Popular Restaurant Chains That Got Their Start in California
Getty Images
Burgers, tacos, and Chinese food are among the most popular choices for Americans when it comes to ordering quick-serve fast food. California is known for generating some of the biggest restaurants in the fast food industry. Let's salivate over 7 of the most famous beloved fast-food restaurants that got their big start in California.
THEY DON'T CALL IT THE 'GOLDEN STATE' FOR NOTHING
Famous fast food coming out of California is worth its weight in gold for millions of devoted foodies, especially when they are looking to grab a quick bite to eat. One of these places even started a riot of sorts when it announced it would no longer serve their popular menu item, the "Mexican Pizza." Another California-based fast food restaurant made international headlines when it had a commercial featuring a famous socialite scrubbing a car clean in a bikini whilst chowing down on one of their "famous" burgers.
I am getting so many nostalgic feelings about each of these 7 popular restaurants that came out of California, have stood the test of time, and are now nationwide, in some cases, global. It was also interesting to learn the origin story of each of them.
via GIPHY
Keep reading to find out nostalgic facts and trivia you may not have known about these 7 famous California fast food chains.
7 of the Most Famous Fast Food Restaurant Chains from CA
ESTABLISHED: 1941
WHAT IS THE ORIGIN OF CARL'S JR:
Carl Karchner and his wife, Margaret, started a hot dog cart in Los Angeles. Over the years under the management of Carl's brother, Don, they expanded restaurant locations. Today, there are more than 1,100 Carl's Jr. restaurants in the United States. According to their website, there are 653 Carl's Jr. locations in California, 34 locations in Washington state, and 58 in Oregon.
MOST POPULAR MENU ITEM AT CARL'S JR.:
Charbroiled Burgers.
ESTABLISHED: 1952
WHAT IS THE ORIGIN OF FATBURGER:
Lovie Yancey opened up the first Fatburger stand in Los Angeles with her husband. After they divorced, she made the restaurant her own in 1952. Today, there are over 180 Fatburger locations in four continents: Africa, Asia, Europe, and North America, including Canada and Mexico. There are 5 Fatburger locations in Washington state, none in Oregon, and 58 locations in California.
MOST POPULAR MENU ITEM AT FATBURGER:
The "Medium Original" ½ pound beef patty burger.
ESTABLISHED: 1948
WHAT IS THE ORIGIN OF IN-N-OUT BURGER:
Harry Snyder, in collaboration with his wife, Esther, opened the first In-N-Out Burger location in Baldwin Park. Today, there are over 380 In-N-Out locations in seven states in America. There are currently 4 locations in Oregon, none in Washington state, and 270 locations in California.
MOST POPULAR ITEM ON THE SECRET MENU:
ESTABLISHED: 1951
WHAT IS THE ORIGIN OF JACK IN THE BOX:
The first Jack in the Box location opened in San Diego by Robert Peterson. In 1968, Ralston Purina purchased Peterson's business and expanded Jack in the Box to 2,100 locations in 25 states in the USA.
MOST POPULAR ITEMS ON THE JACK IN THE BOX MENU:
It's a TIE: The "Sourdough Jack" burger and the 2 tacos for 99 cents.
ESTABLISHED: 1983
WHAT IS THE ORIGIN OF PANDA EXPRESS:
Panda Express is a billion-dollar American business that got its start in Glendale. Andrew and Peggy Cherng established their first Panda Express restaurant in 1983. In 1997, they opened up a drive-thru version of their restaurant in Hesperia. Panda Express has become so popular, Peggy and Andrew currently have over 2300 locations, including American airports, at least one baseball stadium, one major theme park, and a military base.
MOST POPULAR ITEM ON THE PANDA EXPRESS MENU:
The "Orange Chicken" is the top selling entree.
ESTABLISHED: 1952
WHAT IS THE ORIGIN OF TACO BELL:
Did you know that Taco Bell started off as a hot dog stand? Glen Bell had his own taco stand in San Bernardino. He would watch in awe as a Mexican restaurant across the street would have long lines of customers. He decided to adapt his business to the consumer demand for tacos. He moved to Downey and opened up what eventually became known as Taco Bell in 1962. His business became so popular, Bell expanded to 325 locations. He sold his successful business to PepsiCo. in 1978.
MOST POPULAR ITEM ON THE TACO BELL MENU:
The "Mexican Pizza" entree.
ESTABLISHED: 1969
WHAT IS THE ORIGIN OF THE HABIT BURGER GRILL:
The Habit Burger was opened in 1969 as a small family restaurant in Goleta. Brent Reichard worked for the family in the restaurant kitchen. In 1976, he and his brother, Bruce, bought the restaurant from the original owner and kept the name. Reicherd purchased The Habit Burger restaurant from its original owner in 1976. The restaurant was renamed to add the word "Grill" in 1997. The Reichard Brothers sold most of their restaurant locations to KarpReilly in 2007. KarpReilly expanded to locations beyond California, including restaurants in Washington state and the United Kingdom. The Habit Burger Grill was sold to Yum! Foods in 2020.
MOST POPULAR ITEM ON THE THE HABIT BURGER MENU:
The "Santa Barbara Char" burger.
I'm getting kind of hungry now, so chow ciao!
Got a news tip? Email us here.
TRENDING STORIES:
See the Must-Drive Roads in Every State
25 True Crime Locations: What Do They Look Like Today?
Below, find out where 25 of the most infamous crimes in history took place — and what the locations are used for today. (If they've been left standing.)
50 Most Popular Chain Restaurants in America
YouGov investigated the most popular dining brands in the country, and Stacker compiled the list to give readers context on the findings. Read on to look through America's vast and divergent variety of restaurants—maybe you'll even find a favorite or two.