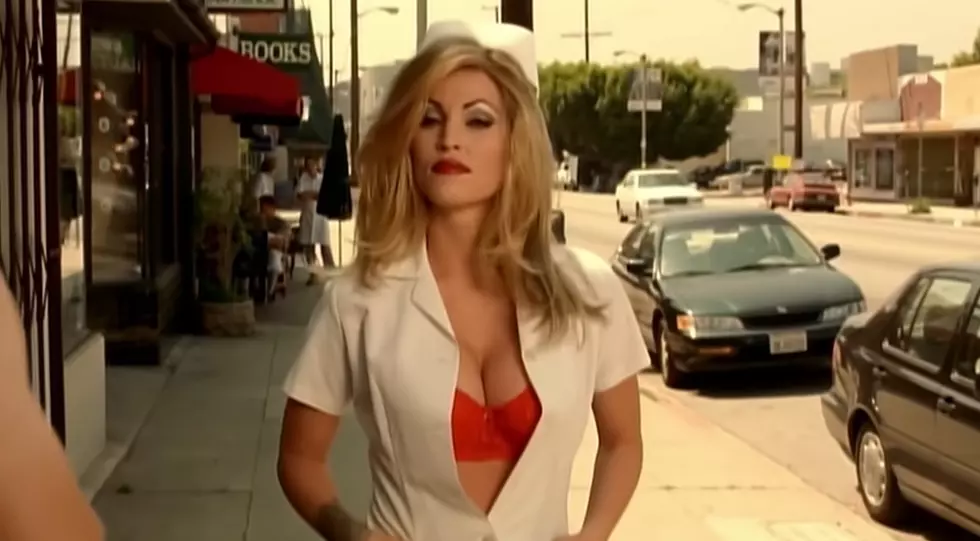 18 Rock Videos for Nurses Week
YouTube - blink-182
National Nurses Week kicks off today (Thursday May 6th) and goes until May 12th. Especially in the middle of this pandemic, nurses are some of the biggest unsung heroes! In many places now days, you don't even see a doctor, the nurse is the one that takes care of you! If you do see a doctor, in a lot of cases, it's at the very end, for a couple minutes before you are rushed out the door! To help celebrate National Nurses Week, I felt it would be neat to take a rock tour of all the rock videos I could think of that had a nurse of some kind being portrayed in them!
So here we go, the 18 rock videos (no particular order) that I found have a nurse in them. I wasn't all that surprised that many of the videos dealt with mental asylums, but, if I saw a nurse (or someone who could possibly be playing a nurse) it made the list. I'm sure I missed a few, so feel free to drop us a message via the KATS App, if you can think of one that I missed. And note... this is only a list of MUSIC VIDEOS that contains nurses. Not  rock songs. I'd be here all day if I tried that list! & Yes, I'd love to put "Weird Al" Yankovic's "Like A Surgeon" on the list... but it's not technically rock. But I didn't forget about it!
HONORABLE MENTION - Megadeth: Sweating Bullets
No nurses found, UNLESS, one of Dave Mustaine's personas plays a nurse. Maybe that arm at the very end of the video is one?
18 - Metallica: One
Even if you're a husk of a man... they're here to help you!
17 - Foo Fighters: Run
Dave and the crew get dressed up and rock out at the old folks home headed by actress Missi Pyle!
16 - Blink 182: What's My Age Again?
As the band runs around town nude, they pass adult film star Janine Lindemulder, in a nurses outfit. Works for me!
15 - Ozzy Osbourne: Bark At The Moon
A tell of Dr. Jekyll & Mr. Hyde, staring Ozzy!
14 - Aerosmith: Blind Man
At the end of the video, the nurse giving the sponge bad... yep, Pamela Anderson!
13 - Quiet Riot: Bang Your Head (Metal Health)
It takes a while, but we finally get out of the padded room, and some nurses/orderlies are chasing him!
12 - Ramones: Psycho Therapy
Another rock song with nurses... another mental asylum!
11 - Theory of a Deadman: Straight Jacket
Who would have thought love could turn someone crazy? Luckily Tyler Connolly has nurses to take care of him.
10 - Anthrax: Madhouse
I now know, straight jackets are useful when mosh-pitting!
9 - Drowning Pool - Bodies
One of the rare videos, where the band is actually the ones in charge!
8 - The Academy Is...: The Phrase That Pays
A band, you might have not heard of, with a video you might not have seen. But rest assured, when you watch it, you'll see nurses!
7 - Radiohead: Knives Out
If you ever wanted to see a trippy life size version of the board game Operation... you're in luck!
6 - Avenged Sevenfold: Nightmare
Strap in & enjoy the trip!
5 - In This Moment: Adrenalize
Maria Brink could possibly be the nurse of my dreams... or nightmare!
4 - Foo Fighters: Long Road To Ruin
They may not be in the medical field, but they act like they do on TV, in this rock video!
3 - Aerosmith: Fallling In Love (Is So Hard On The Knees)
This BDSM themed video also makes sure proper health is in check, especially when it comes to your joints!
2 - Green Day: Basket Case
The one video that many think of, when they think rock & the medical field!
1- Seether: Same Damn Life
I saved my personal favorite for #1! After you watch it, you might just agree with me!
Think of one that I missed? Chime in & let us know with the KATS App!
66 Most Important Moments in Metal History