Groundhog Day Mascot! What Would Yakima Replace Phil With?
YouTube/Dave Powers - Canva
I had no clue that Groundhog Day came and went. I asked my family and friends, and they were shocked as well or said how they finally remembered later in the day. I guess he saw his shadow, so more winter. Let's hope he's wrong; statistically speaking, Phil is only batting 50% average of being right. So since the holiday isn't as big of a deal as it used to be, and Phil is about as accurate as a coin toss, I asked a question to Yakima. I got quite a variety of suggestions.
"What animal should Yakima use to replace the groundhog?"
Most respondents suggested some type of troubled person—Tweaker, Crackhead, Methhead, Hood Rat, jailbird, etc. Frank Taylor, Billy Lea, Emery Osboorn, Robert Foland, Jon Brulotte, Matthew Mayer, Sam Magana, Nicole Weber, and Mindy Nehls-Parrish, among others, recommended this type of person to be a new groundhog replacement. Timothy Gilliam even went into detail about how it would work.
"A tweaker. If the tweaker wakes up and steals your kid's bike before noon, it predicts 8 more years of oppressive government overreach and apathy. If the tweaker sleeps past noon, it is most likely an overdose, and life continues for the rest of us. – Timothy Gilliam
Other types of human replacements for Phil could come in the form of an "8 Toed Crackhoe," according to James Danger Conright. Possibly the same kind of person, "North First Street Party Dancer," is Zach Davidson's suggestion.

Giphy.com
A different type of Rodent to replace Phil?
"A rock chuck" was suggested by Lisa Butler & Gene Patnode. I've also heard them called a "Sage Rat," which was Devery Lee, Fe Schultz-Ibarra's suggestion. "Grey digger or Skunk" would be a good fit, according to Chuck Martin. Flora Jones would like Phil's replacement to be a Prairie dog instead of a groundhog. I can see that. A "Crack Ratt" from Bryan Didge Breath, and not to be outdone, Patrick Roy Cardenas would like the revamped holiday to focus on a New York City Rat! Scott had a great suggestion:
"Gopher, because you never see them! So no shadow to deal with." – Scott Hanna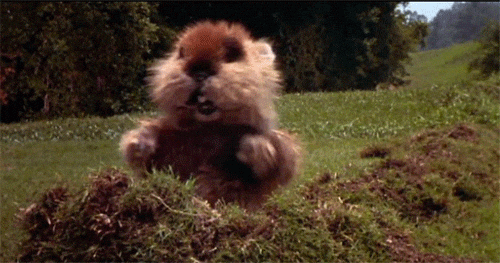 Giphy.com
On a personal note, Rochelle Wilburn thinks her cat would be a significant Phil Part 2.
"My 17-year-old cat! Wanted out for the first time today and ran right back in. 6 more weeks of sleep!
- Rochelle Wilburn
A Cryptid Replacement For Groundhog Day
The infamous Bigfoot, also known as Sasquatch, had many people's votes, including Stephan Madsen and Locker Savage. But Dale Renner has the ultimate winner for a Yakima replacement for the groundhog. He went into the way back machine for his "Chicken-Wolf-Moose-Pig" suggestion that helped Kellogg's cereal make the Yakima Valley famous.
Who should we replace the groundhog with for next year? Tap the App and send us a message letting us know your thoughts.
MORE TO READ:
Amazing Animals To Spot In Washington State
10 Animals You Can't Keep As A Pet In The Tri-Cities
Check out these 10 animals that are illegal to keep as a pet in the Tri-Cities