Holy Batty Holiday! Celebrating Batman Day in the Yakima Valley!
DC Comics - TSM/Timmy!
What do you do to celebrate a caped crime-fighting vigilante in the real world where being a caped crime-fighting vigilante is highly frowned upon by society, the law, and your parents (oh, and you are not technically Batman because you still have parents)? You do your best!
What does Batman day even mean? Do we leave cookies and milk for the Dark Knight when he comes down our ventilation shaft? Do we hide Riddler trophies outside so children can find them? Do we cook a giant bat and eat it with our family members that we have to pretend we like one day a year? (No, we're not going to celebrate Thanksgiving with the Osbournes). What does Batman Day mean? Well, all and all, it's a celebration of the caped crusader!
National Batman Day is Saturday, September 16th. So, how are you planning on celebrating it? You could pimp out your ride like this person from Portland, Oregon, did with his D.I.Y. Batmobile.
You could get back to the roots of Batman and buy some comic books featuring the Dark Knight. In fact, we have a couple of great local comic book stores in our valley, like Ron's Coin & Collectables in Yakima and Central City Comics in Ellensburg.
You could do a movie and cartoon binge! If you do decide to do that, plan ahead! There is a lot of Batman content out there, from various cartoon shows, animated movies, to the actual films. You could check out the Michael Keaton "Trilogy" now that the Flash movie is streaming. You could watch the Nolan trilogy or even piece together all of Batfleck's appearance in the cape and cowl. Don't forget about Adam West and Robert Pattinson. Those Batman flicks are just as great (some would say better than the rest).
What about those gamers out there? The Batman Arkham series, online MMO's, many DC Comics mobile games, table top adventures, puzzles and even action figures and collectables. Why not, stare at those things and day dream about Gotham and its protector!
CHECK OUT: The Laziest Batman Comic EVER!
I DO NOT recommend running around punching anyone you see dressed up like a clown or wearing a green question mark outfit.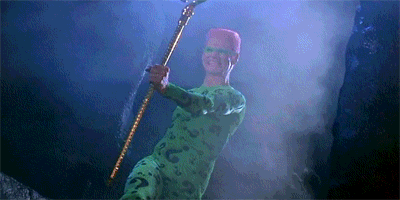 Giphy.com
The History of Batman Day!
The first Batman Day was held on July 23 of 2014. It coincided with San Diego Comic Con. It has since moved to September and is a "floating" holiday. But is one day enough for Batman? Why not a whole Bat-Week? I'm sure DC Comics won't mind! Why do we even celebrate a fictional character? Well he's done a lot of pop culture, you can not deny that. According to google: "The purpose of Batman Day is to celebrate the anniversary of the character's first ever appearance, which was in Detective Comics #27 way back in May 1939." How will you celebrate Batman Day? Perhaps with a Batman version of "The Sound of Silence" originally done by Simon & Garfunkel? Check it out below & happy Batman Day!
A Visual History of Batman
Every 'Batman: The Animated Series' Title Card, Ranked
We ranked every one of Batman: The Animated Series' opening title cards, from the least inspired (it's white lettering on a black background!) to the very best.
Art From Chip Kidd's Batman Black & White Exhibit
Every Movie Batman Actor, Ranked From Worst to Best
From Lewis G. Wilson to Robert Pattinson, we ranked them all.
Every Batman Movie Ranked From Worst to Best
Which Batman movie reigns supreme? We ranked them all.
CHECK OUT: Batman Theme Airbnb in Quincy
Got a news tip? Email us here.
MORE TO READ: