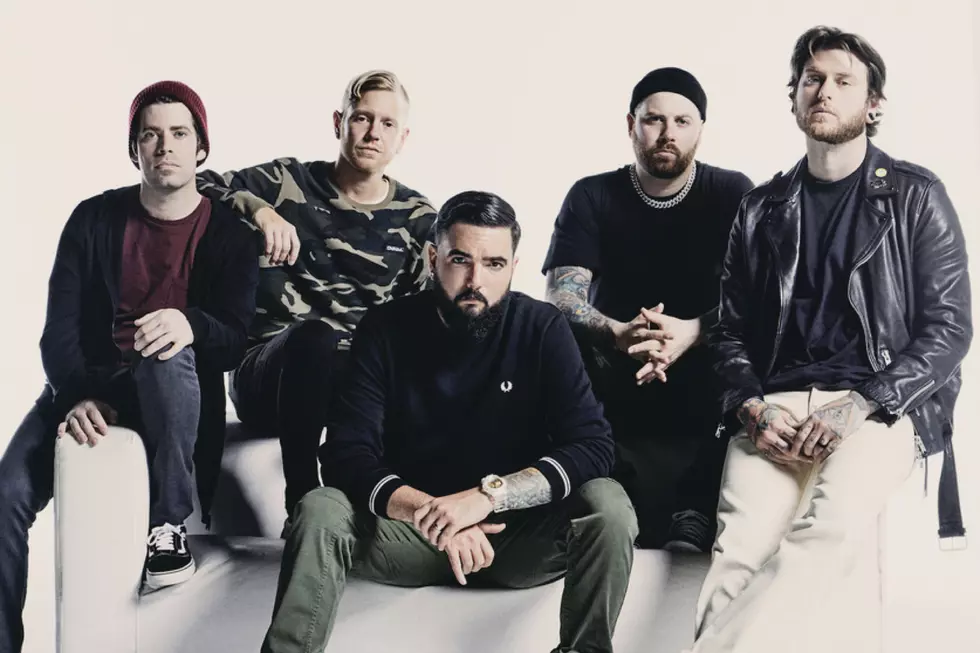 A Day to Remember Drop Catchy Friendship Anthem 'Degenerates'
Jimmy Fontaine
In line with the previously announced "Degenerates Tour" for this fall, Florida rockers A Day to Remember revealed Tuesday (Aug. 20) their soaring new friendship anthem behind the trek's moniker, "Degenerates."
Not only listeners have been clamoring for new jams. It's evidently been a long time coming for the band, as well. "So stoked that our new song 'Degenerates' is finally out!" they proclaimed on social media.
A Day to Remember's imminent "Degenerates Tour" finds the act teaming up with I Prevail and Beartooth on most dates of the cross-country jaunt that kicks off Sept. 6 in Buffalo, New York. See the dates below.
A Day to Remember, "Degenerates"
A Day to Remember Fall 2019 Tour Dates
Sept. 6 - Buffalo, N.Y. @ Buffalo Riverworks
Sept. 7 - Worcester, Mass. @ Self Help Festival
Sept. 8 - Concord, Va. @ Blue Ridge Rock Festival
Sept. 27 - Louisville, Ky. @ Louder Than Life Festival
Sept. 28 - Simpsonville, S.C. @ CCNB Amphitheatre at Heritage Park
Oct. 12 - San Bernardino, Calif. @ Self Help Festival
Oct. 13 - Sacramento, Calif. @ Aftershock Festival
Oct. 15 - Boise, Idaho @ CenturyLink Arena
Oct. 16 - West Valley City, Utah @ USANA Amphitheatre
Oct. 17 - Denver, Colo. @ Fillmore Auditorium
Oct. 21 - Irving, Texas @ The Pavilion at Toyota Music Factory
Oct. 22 - Houston, Texas @ NRG Arena
Oct. 23 - Corpus Christi, Texas @ Concrete Street Amphitheatre
Oct. 25 - St. Charles, Mo. @ The Family Arena
Oct. 26 - Chicago, Ill. @ Credit Union 1 Arena
Oct. 27 - Minneapolis, Minn. @ The Armory
Oct. 29 - Fargo, N.D. @ Scheels Arena
Oct. 30 - Des Moines, Iowa @ Wells Fargo Arena
Oct. 31 - Independence, Mo. @ Silverstein Eye Centers Arena
Nov. 2 - Pittsburgh, Pa. @ Petersen Events Center
Nov. 3 - Fairfax, Va. @ EagleBank Arena
Nov. 5 - Laval, Quebec @ Place Bell
Nov. 7 - Reading, Pa. @ Santander Arena
Nov. 9 - Glens Falls, N.Y. @ Cool Insuring Arena
Nov. 10 - Trenton, N.J. @ CURE Insurance Arena
Nov. 12 - Syracuse, N.Y. @ The Oncenter War Memorial Arena
Nov. 14 - Fort Wayne, Ind. @ Allen County War Memorial Coliseum
Nov. 15 - Cleveland, Ohio @ Wolstein Center
Nov. 16 - Ypsilanti, Mich. @ Eastern Michigan University Convocation Center
Nov. 17 - Huntington, W.V. @ Big Sandy Superstore Arena
Nov. 19 - New York, N.Y. @ Terminal 5
Nov. 21 - Duluth, Ga. @ Infinite Energy Arena
Nov. 22 - Nashville, Tenn. @ Nashville Municipal Auditorium
Nov. 23 - Fayetteville, N.C. @ The Crown Theater
A Day to Remember Albums Ranked