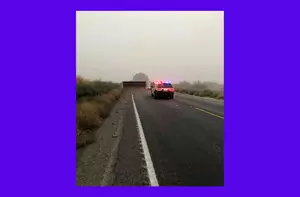 Potato Truck Driver Faces Charges
Photo courtesy of the Franklin County Sheriff's Office.
After a potato truck crashed and closed a Franklin County roadway down for several hours this morning, the driver was taken into custody.
The 37-year old Pasco man was traveling on Glade Road when the truck crashed on its side, spilling the load of potatoes. The crash happened North of Selph Landing Road just after 6 am.
Angel Robles Soto was not hurt in the rollover, however, he's accused of poor driving, causing the rollover.
Soto was taken into custody on suspicion of driving with a suspended license.
Glade Road was closed between Alder and Selph Landing Road while so crews could clean up the potatoes.
Enter your number to get our free mobile app
READ MORE: Here are 50 ways you can improve your work from home lifestyle