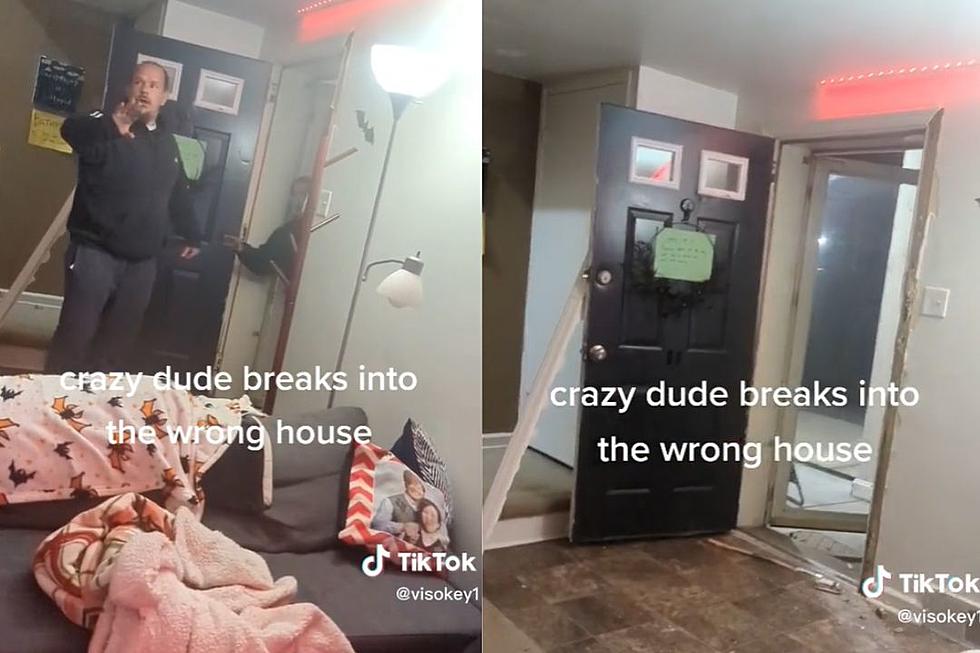 Man Apologizes for Breaking Down Door After Violently Breaking Into Wrong Home: Watch the Chaotic Viral Video
@visokey1 via TikTok
A man went viral after chaotically breaking into the wrong person's home in his quest for retribution for his daughter.
A viral video on TikTok shows a man angrily confronting and violently breaking down a stranger's door even after being told repeatedly that he has the wrong house.
It turns out the father is looking for the man who allegedly struck his daughter with his car — but he's got the wrong guy, as he's been given a fake address.
Finally, the man and his wife, who enters shortly after her husband, realize they've been duped and are antagonizing the wrong family.
"I'm sorry, he hit my daughter with a car," the women says, trying to explain the situation while the worked-up man apologizes and promises to pay for the damage he has caused.
"I'll pay for this, I'm sorry ... Take it, I'm sorry," he guiltily tells the resident, handing over a wad of cash.
After begging the man to "please just leave," the man and his wife sheepishly exit.
It's unclear when the footage was filmed, but it's been viewed over 5.4 million times as of publishing.
The viral clip is captioned: "Man breaks into the wrong house and tries to apologize with $200."
Warning: Video contains strong language
In the comments section, many viewers weighed in with their belief that the man who broke down the door was just trying to avenge his daughter, albeit in the most reckless way possible.
"He is trying to protect his child! He accidentally got the wrong house," one viewer wrote.
"Bless his heart. He was doing his job as a daddy, just got the wrong house," another commented.
"This is scary! I felt their apology but that was completely wrong!!!" someone else shared.
"Despite the misunderstanding he did what any father would of done," another wrote.
Mind-Boggling 2022 Moments That Felt Like Pranks
We pulled together a list of 11 inexplicable news stories that have already gone viral this year. They might seem like jokes, but we regret to inform you that they were all very much real. Check them out below.