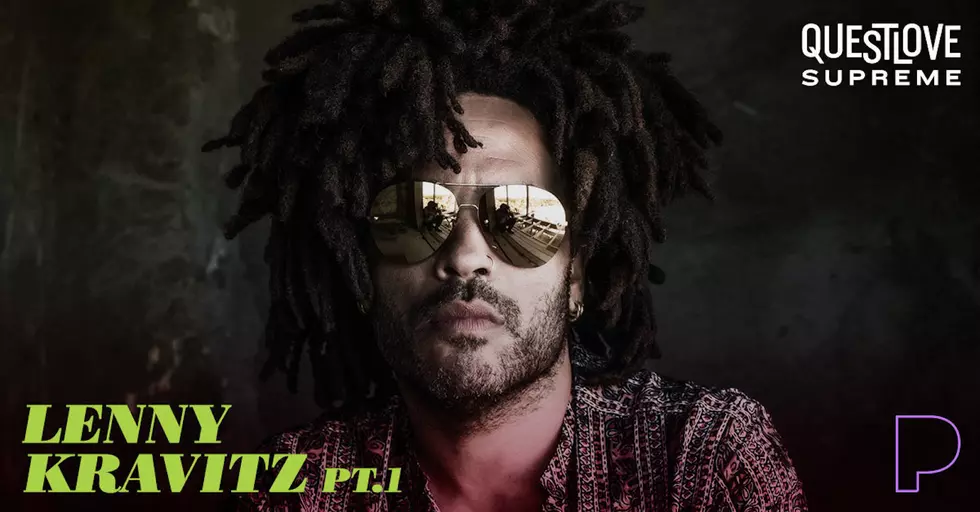 Lenny Kravitz Talks About His 30-Year Career, Smoking Weed with Sherman Hemsley, Duke Ellington, Lisa Bonet + More
provided by SpinLab on behalf of Pandora.
There comes a time when rock stars who seemed larger than life end up morphing into soccer dads, literally. Many of the frontmen still around — like Aerosmith's Steve Tyler, and The Rolling Stone's Mick Jagger— seem to have lost their luster. Gone are the sexed-up getups and tongue teasing. But that's not the case with Lenny Kravitz. It's been thirty years since he dropped the seminal Let Love Rule, and he still has more swag than most of the younger cats coming into the game. The '80s rock icon has been called the man who has managed to keep the vintage vibe alive.
Despite all the accolades he receives — which flows his way on the regular—the Brooklyn-born musician was just born this way —there's nothing contrived him, which probably explains why he's a stalwart in the music industry. But despite all the accolades, he's still one of the most underrated, and underappreciated musical geniuses around, and it's easy to wonder if he feels any pressure to keep up with the times. "I'd done so much, and I'd gone so many places musically, I really wasn't sure who I was at that [the time of making my most recent album] he told Questlove. "A lot of people were giving opinions, which is good, about what they thought I should be doing, and try this, try that, work with this one, do this. You never work with a producer. You always do everything yourself. And this whole thing about remaining relevant, which I learned a lot about because it really doesn't mean anything. Well, to me, being relevant is being true to who you are at any given time. And what was I going to go do? I was going to go make a track record. Not that I don't dig it, but, you know what I'm saying? Try to be that guy, like, okay, let me go be hip."
Kravitz chops it up Questlove in NYC's VuDu Studio for Episode 093 of the Questlove Supreme podcast. He talks about his mother, the beautiful actress Roxie Roker, how his parents met, smoking weed with Sherman Hemsley, his parent's relationship with Duke Ellington, finding gems with his daughter Zoe in the Bahamas, and when he first met Lisa Bonet. Check out a few excepts below.
Being introduced to music and his parents being close to Duke Ellington and sitting on his lap while he sung Lenny a happy fifth birthday:
"It was all around me. Okay, first concerts. The first concert was Jackson 5, Madison Square Garden, with the Commodores opening before they were called Commodores. I remember talking to Lionel about it. He's like, "We didn't even have a name then." They had some other name they were going under. Saw James at the Apollo when I was like six, then started going-- saw Duke Ellington at the Rainbow Room. Used to hang with him. My parents were close with him. I remember being at a soundcheck sitting on his lap while he played. Actually, that was my fifth birthday because they played Happy Birthday to me. So Miles, all that stuff. Lionel Hampton, da, da, da, da, da, da, da. Sarah Vaughan. Going to the opera, going to the ballet, going to Shakespeare in the Park, going to off-Broadway, and black theater, and Broadway. So all this stuff was around me. My parents used to take me out with them, which was really cool whenever I could go. Whenever they saw fit, they took me to parties. They took me to clubs. They took me to go see stuff, so I saw these people. Before I was 10 years old, l'd seen like everybody."
Zoro – the infamous drummer in the 80s – connecting Kravitz & Lisa Bonnet together:
"Zoro is a connection here because I was trying to get record deals and doing my thing. And at the time, Jheryl Busby was trying to sign me. And he was over at MCA- after he had left A&M Records. And so him, and Louil Silas, and all them cats. And they're like, "We're trying to put a band together for New Edition. Do you know a drummer?" I said, "I know a great drummer." I called Dan, "Yo. They're having a New Edition drum audition. Here's the address," blah, blah, blah. He went. He got the gig. So now he's playing with New Edition. I'm going to see them play shows. I think the first one I saw was at-- is there a round amphitheater, Westbury-- I went to see New Edition and I go with Rockwell. We went together to the concert, and that's where I met Lisa Bonet. UTFO open."
Check out the full interview exclusively on Pandora.