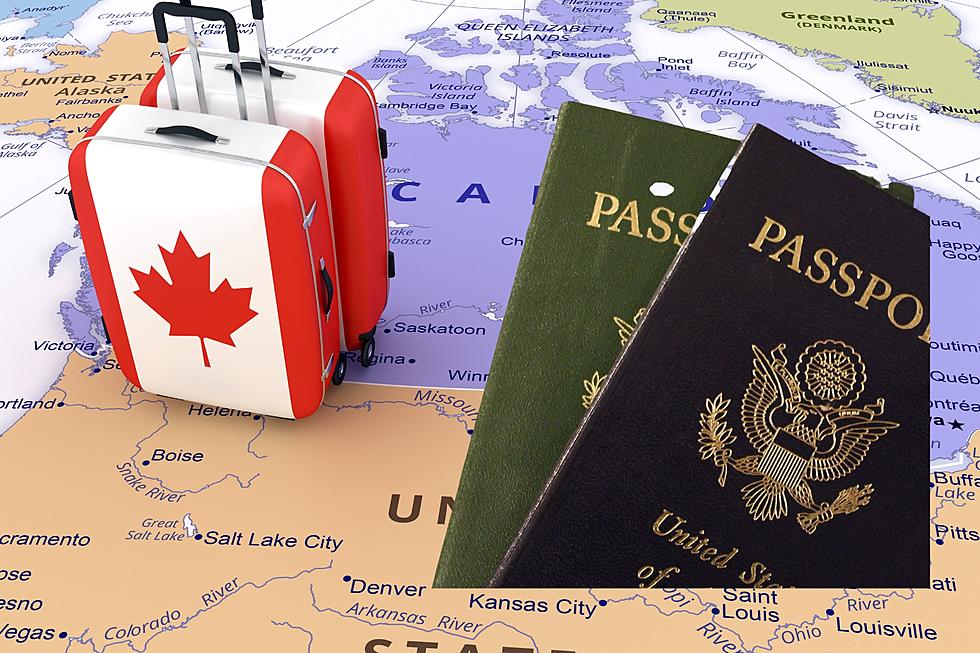 Where Can You Travel Outside of America With a WA State DUI?
Canva
The most popular country Washington residents visit is our neighbor to the north, "O Canada." Now that a new passport office has been opened in Yakima and more people are getting passports, people with certain criminal convictions want to know which countries they will be allowed to visit.

Canadians are so nice...
...Except when it comes to Americans who have past DUI/DWI, or negligent driving offenses on their criminal background.
It's simple, don't drink and drive. Yet many Americans make stupid mistakes and drive after consuming too much alcohol. If they get busted and convicted, they face immense shame for the rest of their lives, go to jail, face fines, and...face a VERY rough time trying to travel to Canada (and oftentimes Mexico, Australia, South Africa, Iran, United Arab Emirates, Japan, Qatar, and Malaysia).
Over in Canada, such convictions are considered felony offenses, as opposed to gross misdemeanors in America. It is extremely disappointing to have these particular convictions lurking forever on your rap sheet (in Canada, it's 80 years) and being lumped in the same criminal realm with of rapists, murderers, and fraudsters.
Americans can't visit Canada without going through the ringer if they have a past DUI.

Even since before the Canadian Immigration and Refugee Protection Act updates to the law in 2018 made past and future DUIs a felony, attempting to cross over to the Canadian border has meant shelling out hundreds of dollars paying fees, petitioning consulates, requesting personal criminal background checks from states you've ever lived in and to the FBI, and stressing out.
The frustrating part about all of this is you could go through all the agony of getting the necessary paperwork, only to be subject to the whim of a border patrol officer who may STILL deny you entry at the drop of a Canadian quarter.
CAN YOU VISIT CANADA WITH A DUI? POSSIBLY, BUT FIRST YOU GOTTA FILL OUT A CRAP TON OF PAPERWORK
Even if you don't plan on driving into Canada, if you have a past DUI, you must gather a crap ton of paperwork. It must be presented to the Canadian Border Patrol or Customs Agent, or mailed to a United States Consulate. Because this process is extremely tedious and the wait times can last up to a year, some U.S. travelers resort to shelling out hundreds (if not thousands) of dollars to hire a Canadian immigration attorney help them expedite gathering all of the required documents. They also might ask an immigration lawyer to write a Canadian Legal Opinion letter on their behalf.
If you have past DUI, negligent driving, or related driving convictions in the States, you'll first need to submit a Criminal Rehabilitation Form and a Temporary Resident Permit. You will also need copies of personal character statement letters from yourself, employer, or personal contacts, and an itinerary detailing why you are visiting Canada in the first place. You must also declare the planned length of your stay and why Border Patrol should show you any mercy.
DON'T GIVE UP HOPE IF YOU'RE TRYING TO VISIT CANADA
I'm sure it feels dehumanizing to want to visit a country that tells you you're not "good enough" to come visit because of past mistakes like a DUI, but fortunately, some Americans have found the loophole that lets them visit Canada. Hopefully, you'll be able to choose a beautiful country that welcomes you with open arms. Check out the list of such countries below.
Countries You Can Visit If You Have a DUI
You should always plan to declare your criminal history to a country's border patrol agents whenever asked.
Got a news tip? Email us here.
TRENDING STORIES:
See the Must-Drive Roads in Every State
25 True Crime Locations: What Do They Look Like Today?
Below, find out where 25 of the most infamous crimes in history took place — and what the locations are used for today. (If they've been left standing.)
50 Most Popular Chain Restaurants in America
YouGov investigated the most popular dining brands in the country, and Stacker compiled the list to give readers context on the findings. Read on to look through America's vast and divergent variety of restaurants—maybe you'll even find a favorite or two.